Back
'That battle is not over:' New Orleans smoking ban braces for blowback
Apr. 22, 2015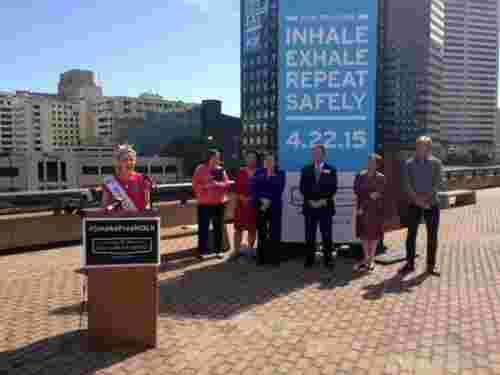 Barely 10 hours old, New Orleans' new smoking ban wasn't out of the woods yet, warned City Councilwoman Susan Guidry.
"That battle is not over," she said Wednesday morning (April 22).
Lobbyists in the state Legislature are seeking to undermine the ban as Harrah's casino continues to push for some exception from it for its gambling floor.
'That battle is not over.' New Orleans City Councilwoman Susan Guidry warns that the city's newly enacted smoking ban is facing resistance from the tobacco industry and Harrah's casino.
"It's the tobacco industry, really, with the casino's face (on)," Guidry said. "They're up in Baton Rouge, whispering in the ears of all the legislators and they're saying that what the City Council did was lose the state money. We have seen this over and over and over for many years."
Guidry's alarm came amid a celebratory press conference meant to usher in the new smoking ban, a six-month lawmaking feat that went into effect at midnight Tuesday.
Harrah's had unsuccessfully launched a last-ditch effort before the council passed the ban in January to get out from under it. Having failed to do so, the company apparently has begun to appeal to state lawmakers for help.
In what could be seen as either sincere gratitude or praise with tongue planted firmly in cheek, Councilwoman LaToya Cantrell thanked Harrah's and New Orleans' bars for going smoke-free overnight. A pack of French Quarter strip clubs, bars and restaurants joined Harrah's last week to sue the city over the ban.
"At midnight last night, Harrah's did that: Removed ash trays, passed out lollipops, celebrated themselves as being the best smoke-free casino in Louisiana," Cantrell said. "So we need to give Harrah's a round of applause."
© 2015 NOLA Media Group. All rights reserved