Back
Smoking prohibited in Lafayette bars
Apr. 20, 2017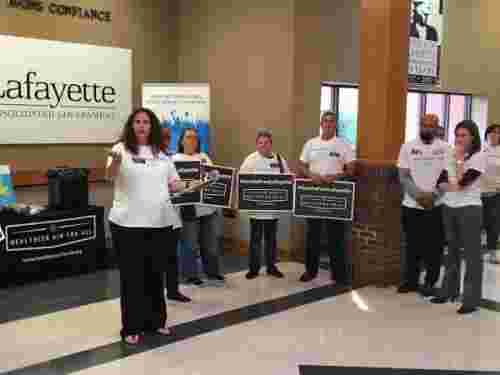 Smoking, including electronic cigarettes, will no longer be allowed in Lafayette bars, clubs and any public places.
With a 7-2 vote of the Lafayette City-Parish Council Tuesday, Lafayette becomes the 11th city in Louisiana to extend its smoking ban to all clubs and bars, following the example of New Orleans.
The ban applies to bars, clubs, gaming facilities and expanded-service restaurants in the city of Lafayette and unincorporated parts of Lafayette Parish. The ban does not apply to other municipalities -- Broussard, Carencro, Duson, Scott and Youngsville. It also applies to spaces like Parc International and other public parks.
Local musician David Egan previously spoke to the council, asking for a smoking ban that was voted down in 2015. Tuesday, his widow, Rhonda Egan, spoke in his place. David Egan died a year ago from lung cancer even though he quit smoking 20 years ago.
"As a musician, he exposed himself to second-hand smoke trying to make a living for his family," she said.
In 2005, the council first banned smoking in restaurants and some public spaces. The Louisiana Legislature followed in 2007, with a law making smoking in most workplaces unlawful. Neither of those measures prohibited smoking in bars and casinos.
Voting against the smoking ban were councilmen Jared Bellard and William Theriot.
The ordinance indicates enforcement of the smoking ban will begin Aug. 1, but the ordinance becomes effective as early as 10 days or upon signature of Mayor-President Joel Robideaux, whichever occurs first.
Places in Louisiana that already ban smoking in bars include New Orleans, Hammond, Sulphur, Monroe, West Monroe, Ouachita Parish, Cheneyville, Woodworth, Bogalusa and Alexandria, according to Linzy Cotaya with the American Heart Association.