Back
Smoking inside bars is officially off-limits in New Orleans
Apr. 22, 2015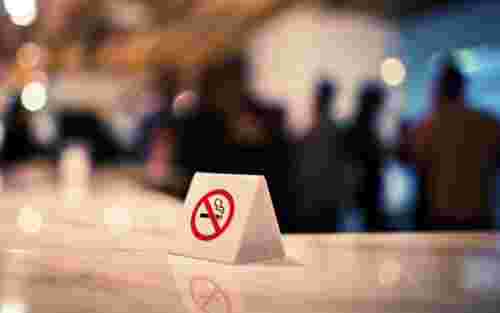 NEW ORLEANS (AP) - City Council members who led the push to ban smoking in bars and gambling venues in this notoriously libertine city hailed the start of the smoke-free ordinance Wednesday as a historic step in making the city healthier.
At midnight Tuesday, smoking inside the city's more than 500 bars and gambling venues - including the major downtown Harrah's New Orleans casino - became off-limits and smokers across the city's bars lit up their last cigarettes with much fanfare.
At the downtown casino, employees handed out lollipops to smoking gamblers at the stroke of midnight and removed ashtrays from the casino's gambling floors.
At a news conference Wednesday, anti-smoking advocates and City Council members LaToya Cantrell and Susan Guidry, who led the push for the ban, celebrated the start of the prohibition.
"April 22, 2015, will forever be written in the books of the history of New Orleans," Cantrell said. "We together stood tall to protect our workers, to protect our musicians, our cultural bearers, and to protect all citizens of our great city."
Guidry, however, warned that the tobacco industry and casino lobby was continuing to fight the ban by seeking exemptions from state lawmakers in Baton Rouge.
"They're up in Baton Rouge whispering in the ears of all the legislators, and they're saying what the City Council did will lose the state money," Guidry said.
The ban was passed over the objections of bar owners and Harrah's New Orleans. Last Friday, owners of the casino and dozens of other businesses asked a state judge to stop the ordinance from taking effect. But Civil District Court Judge Nakisha Ervin-Knott denied the request for a preliminary injunction and set a hearing on the matter for May 21.
Business owners warn that the ban may cut into revenues by as much as 20 percent in the first year.
Claudia Flores Rodas, southern region director for the Washington-based anti-smoking group Campaign for Tobacco-Free Kids, said advocates expect legislative maneuvering in an attempt to undermine the ban. But she said no such legislation has been filed in the current session as yet.
The ban on smoking also covers many other public places such as hotels, workplaces, private clubs and stores. The prohibition includes smoking electronic cigarettes indoors in public places.
© 2015 The Associated Press. All Rights Reserved.