Back
SMOKE-FREE BAN IN SHREVEPORT SET TO GO INTO EFFECT AUG. 1 FOR WORKPLACES INCLUDING BARS, CASINOS
Jun. 4, 2021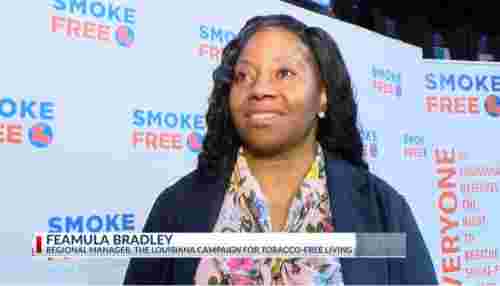 SHREVEPORT, La. (KTAL/KMSS) — The Smoke-Free Louisiana Coalition hosted a news conference Thursday morning to prepare businesses and the community for a passed ordinance set to ban smoking in workplaces including bars and casinos on August 1.
"Secondhand smoke is really a devastating problem within our communities, we want to do everything we can to prevent secondhand smoke and I think this initiative is a great initiative on behalf of our state", Chief Executive Officer of Ochsner LSU Health Shreveport, Chuck Daigle said.
According to the coalition, Shreveport will become the 30th municipality in Louisiana to have passed a comprehensive smoke-free ordinance protecting virtually all indoor workers from the dangers of second-hand smoke.
The ordinance makes all workplaces in Shreveport smoke-free, including bars and gaming facilities. The Louisiana Smoke-Free Air Act (Act 815), established in January 2007, prohibits smoking in most public places and workplaces, including all restaurants with or without attached bars; it did not include bars and gaming facilities, according to the coalition.

The coalition previously stated that each day, Shreveport delayed in establishing smoke-free bars and casinos added to healthcare costs, cost employers' productivity, and resulted in the loss of income from potential visitors to the area. Data showed thousands of Louisiana residents died from smoking-related causes yearly and smoking drains Louisiana of almost $1.89 billion in health care costs every year.

"This is the step in the right direction for health equity in Shreveport, jobs in Shreveport, better health just in general for Shreveport, it's beyond time to treat our hospitality workers the same, Government Relations Director for the American Heart Association, Ashley Hebert said.

"For years they have been left out when it comes to their health having to put their health on the back burner and their paycheck first."

Regional Medical Director for Louisiana Office of Public Health, Martha Whyte, said COVID-19 was the push the City needed to expedite the process since COVID-19 affects your lungs, and they did not want those with underlying health conditions to be at risk for lung disease.

"People who have jobs, they have no option but to be around those people who are smoking. This ordinance allows them that freedom to be able to go to work and not be expose to that smoke."