Back
SHREVEPORT SMOKING BAN
Jul. 28, 2021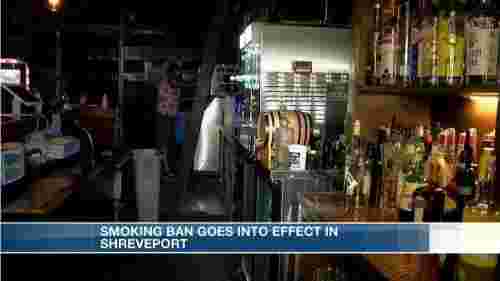 Members of the Smoke-free Louisiana coalition were expected to update council members on implementation of the city's smoking ban that will be enforced starting Aug. 1.
Starting this Sunday, Shreveport will become the 30th municipality in Louisiana to go smoke-free.
Shreveport residents will not be allowed to smoke indoors at bars, casinos and other gambling facilities, restaurants, hotels and motels, workplaces, schools (preschool to post-secondary), private clubs, common areas of multi-unit housing, including apartment complexes and condos, buildings and vehicles owned, leased, occupied, or operated by the city or state, prisons and other correctional facilities, most public places (enclosed by two or more walls/barriers) including: hospitals, nursing homes, public buses and street cars, retail stores, and retail service businesses and convention facilities during Mardi Gras balls.

Places that are acceptable to smoke indoors are private homes and vehicles, private and semi-private rooms in nursing homes and other long-term care facilities when it's requested by all occupants in writing, tobacco and electronic smoking device businesses, and cigar and hookah bars.

When the smoking ban goes into effect, Shreveport residents cannot smoke outdoors at work places, such as construction sites, sports arenas, stadiums, amphitheaters, and recreational areas with playground equipment (except during concerts, fairs, farmers markets, festivals and parades), and in bleachers and grandstands for use by spectators at sporting events.

"We have resources, tool kits that will be mailed out to all the business owners," said Feamula Bradley, the Louisiana Campaign for Tobacco-Free Living Regional Manager. "We are constantly educating to make sure it stays in place to keep the people who work in the hospitality industry safe."
Shreveport residents can however smoke in designated smoking and vaping sections of outdoor seating, serving areas, balconies and courtyards of bars, restaurants, casinos, facilities that operate slot machines, pari-mutual wagering facilities and off-track wagering facilities such as the fair grounds.
Those who violate the ban face a fine up to $500.