Back
SHREVEPORT BARS AND CASINOS GO SMOKE-FREE STARTING SUNDAY
Aug. 2, 2021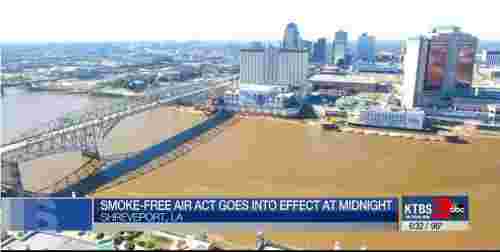 SHREVEPORT, La- Bars, casinos, and other gambling facilities will be smoke-free as of Sunday, August 1.
This comes after the Smoke-Free Air Act was passed in 2020. During summer Shreveport City Council meetings, a repeal to take casinos out of the act was presented. On July 13, the repeal was tabled leaving the act to go into effect, including casinos, on August 1.
"I'm a ecstatic," said Feamula Bradley, Regional Manger for Louisiana Campaign for Tabaco-Free living. "I am so excited and happy for what that means for our hospitality community, as well as patrons, because now they can work in an equitable workspace that protects them from the effects of secondhand smoke. And of course as we know, now COVID."
Jason Smith is visiting El Dorado with his wife this weekend. Smith doesn't mind the ban despite being a smoker.

"Honestly, I didn't come here to smoke, so I'm not too upset about it," said Jason Smith. "I came here to have a good time, gamble, eat. It's my wife's birthday weekend. So smoking, it's a bummer, but I'll just go sit in my car. It's not a big deal."

According to the Louisiana Campaign for Tobacco-Free Living, Shreveport is the 30th municipality in Louisiana to implement a smoke-free ordinance. The implementation of this ordinance means that 30% of Louisiana's total population is being protected from the harmful effects of secondhand smoke.