Back
Louisiana's Restaurant, Hospitality Industry Benefitting Ten Years After Smoke-Free Air Act
Jan. 11, 2017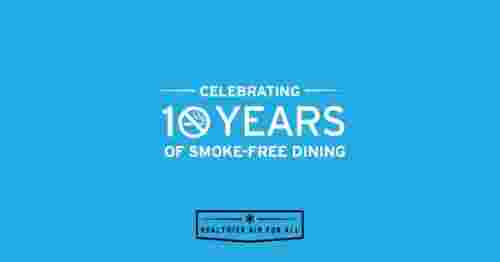 Smoke-free dining is the new normal, but more work remains.
January 2017 marks the ten year anniversary of one of the most significant victories for public health in Louisiana, the enactment of the Smoke-Free Air Act (Act 815).
During the 2006 Louisiana Regular Legislative Session, Robert Marionneaux, Jr., after having worked closely with the Coalition for a Tobacco-Free Louisiana (CTFLA), introduced Senate Bill 742. It was passed and signed into law by Governor Kathleen Blanco to prohibit smoking in buildings, schools, other public places, inside places of employment, and most significantly restaurants. Senate Bill 742, commonly referred to as Act 815 or the Louisiana Smoke-Free Air Act, went into effect January 1, 2007.
According to the National Restaurant Association's data, restaurants are one of the leading driving forces in Louisiana's economy. This accompanied with the fact that hospitality employment has increased after the smoke-free air act clearly shows that the restaurant industry and those who work in and visit them have benefitted from the passage of Act 815.
Act 815 also provided local jurisdictions the ability to enact policies stronger than the state's. However, Act 815 did not prohibit smoking in licensed gaming facilities or free standing bars. As a result, local governments in ten cities and municipalities have enacted comprehensive smoke-free policies over the last ten years, including the City of Bogalusa (2016), the City of New Orleans (2015), the City of Hammond (2015), the City of Sulphur (2015), the Town of Cheneyville (2014), Monroe (2013), West Monroe (2013), Ouachita Parish (2013), the Town of Woodworth (2012), and the City of Alexandria (2012).
"Louisiana continues to make progress in our fight against tobacco's influence across the state thanks to our partners, parish and city smoke-free ordinances and the recent tobacco tax increases," said Tonia Moore, Director of the Louisiana Campaign for Tobacco-Free Living (TFL). "More than 30 states in the U.S. have adopted comprehensive statewide policies, prohibiting smoking in restaurants, bars and gaming facilities, however, workers in Louisiana's bars and gaming places have been holding their breath and lungs for this to happen. While the local victories have helped to make an impact around tobacco prevention and control, they are not enough, there is still work to be done."
The smoking prevalence among Louisiana adults has been on the decline. In the last two years alone, Louisiana's adult smoking rate has decreased by 1.6 percent – dropping from 23.5 percent of adult smokers in 2013 to 21.9 percent in 2015. However, the state's smoking rate is still significantly higher than the national average, currently at 17.5 percent.
Additionally, while tobacco use can cause cancer in nearly any area of the body, the risk of some types of cancer, such as lung cancer, are much higher for current and former smokers. Data from the Louisiana Tumor Registry from 2011-2015 shows that for several cancer types associated with tobacco use, many more cases occurred in current or former tobacco users than in those who never used tobacco. Most prevalent are cancers of the larynx, lungs, esophagus, oral cavity, liver and the bladder.