Back
Louisiana teens rally at Capitol for National Kick Butts Day
Mar. 22, 2018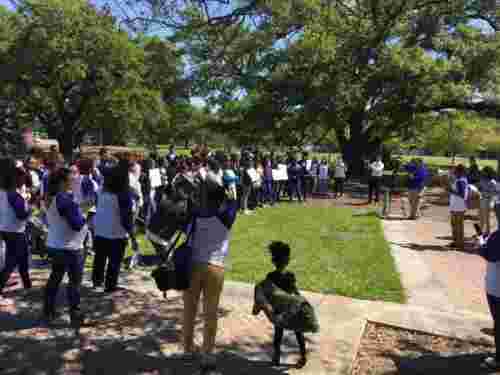 On Wednesday, March 21, 2018, youth from across Louisiana gathered in Baton Rouge with a simple message: Health for all.
Louisiana youth are some of the unhealthiest in the nation, and as a result a group of concerned youth came together with support from Healthier Air For All and Louisiana School-Based Health Alliance to let their legislators know now is the time for change. For example, current tobacco use by both middle and high school students in Louisiana are higher than the national average - approximately 14.9 percent of Louisiana middle and 28.9 percent of Louisiana high school students, compared to 7.2 percent of middle and 20.0 percent of high school students on the national level.
Additionally, 18.3 percent of Louisiana youth are overweight and 17 percent are obese, according to the 2017 Louisiana Youth Risk Behavior Survey results. Finally, according to the Centers for Disease Control and Prevention (CDC), in 2015, Louisiana had the highest rates of syphilis among adolescents nationwide, the second highest rates of chlamydia and gonorrhea among adolescents, and the 6th highest teen birth rate.
These youth are passionate about creating clean air for all, as well as maintaining access to vital youth health services, such as resources on quitting tobacco, along with other important services provided through the 64 state-funded school-based health centers around the state. The more than 100 youth are part of Next Era, a statewide youth movement promoting healthy, tobacco-free lifestyles, and also from schools lucky enough to have health clinics on school grounds and who see the benefits these clinics provide first hand.
"Reaching our youth during middle and high school is crucial because the average smoker tries their first cigarette before the age of 18, and many other health related issues arise," said Tonia Moore, Director for the Louisiana Campaign for Tobacco-Free Living (TFL). "This is when our youth are coming into adulthood, and we should do all we can to encourage them to learn and choose to live healthy, positive lives for the future of our state's health."
Secondhand smoke can cause short-term illnesses including bronchitis and asthma attacks, and prolonged exposure can lead strokes, heart attacks, or lung cancer. Additionally, statewide smoke-free policies can reduce the age of initiation of smoking and improve the overall health of the residents across the state. "Everyone should be able to breathe clean, fresh air instead of breathing in something that can give you cancer and kill you," says Valecia Tripps, 15, Holden, LA.
Many of the youth in attendance are part of Next Era, a statewide youth movement promoting healthy, tobacco-free lifestyles and are supporting the Healthier Air for All campaign, which advocates for smoke-free public environments. They gathered in conjunction with Kick Butts Day, a national day of action organized by the Campaign for Tobacco-Free Kids, to let their legislators know how passionate they are about protecting people's right to clean air and creating health for all. "I care about protecting people from secondhand smoke because it's awful having to breathe in that smoke when you don't want to, and helping protect others who don't want to be around it is what I am striving to do," says Felecity Yancy, 18, Atlanta, LA.
After rallying outside the Capitol, many of the youth met with legislators to discuss the importance of this issue. They also brought banners signed by local communities demonstrating support for protecting citizens from the harmful effects of secondhand smoke.
"This annual event is an important civic opportunity for students that may not normally be engaged in the political process. It also is a time where students can join other youth in sharing why their health is meaningful to them and the important role SBHCs play in maintaining their health," said Tabitha J. Washington, President, Louisiana School-Based Health Alliance.