Back
Local hospitals join city's tobacco awareness efforts
Feb. 18, 2015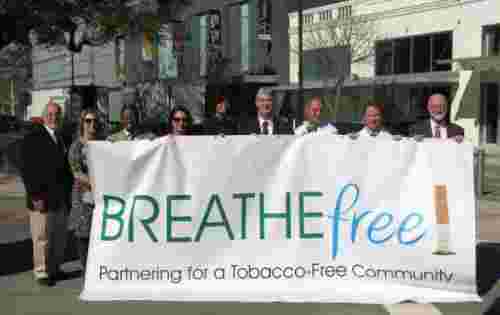 East Baton Rouge Parish Mayor-President Kip Holden has joined with seven local health care organizations to raise public awareness about tobacco-free campus policies and to encourage residents to quit the use of tobacco.
Together with Holden's healthy city initiative, also know as Healthy BR, and the Louisiana campaign for Tobacco Free Living, Breathe Free was developed as an awareness campaign to promote the benefits of a tobacco-free lifestyle, according to a news release.
Participating health care organizations include Baton Rouge General Medical Center, Lane Regional Medical Center, Mary Bird Perkins — Our Lady of the Lake Cancer Center, Ochsner Medical Center — Baton Rouge, Our Lady of the Lake Regional Medical Center, St. Elizabeth Hospital and Woman's Hospital.
Holden and officials at the hospitals are collaborating to send the message that tobacco products pose a serious health risk.
Holden said he applauds the hospitals for their tobacco-free campus policies.
According to the release, an estimated 17 percent of adults in East Baton Rouge Parish smoke. In Louisiana, about 690 adults die each year due to exposure to secondhand smoke.
In an average week, 80 percent of Louisiana residents are exposed to secondhand smoke, which is a complex mixture of more than 4,000 chemicals, at least 60 of which are known to cause cancer, the release said.
For information about tobacco cessation resources, visit www.healthybr.com/breathe-free.
Healthy BR is a coalition of more than 70 partner organizations that communicate, coordinate and collaborate around Baton Rouge's greatest health priorities, which the coalition defines as: obesity, HIV/AIDS, mental and behavioral health, and overuse of emergency rooms, the release states.
Copyright © 2015, Capital City Press LLC
7290 Bluebonnet Blvd., Baton Rouge, LA 70817
(225) 383-1111
All Rights Reserved