Back
Hammond becomes ninth Louisiana city to expand smoking ban to bars and gaming halls
Apr. 22, 2015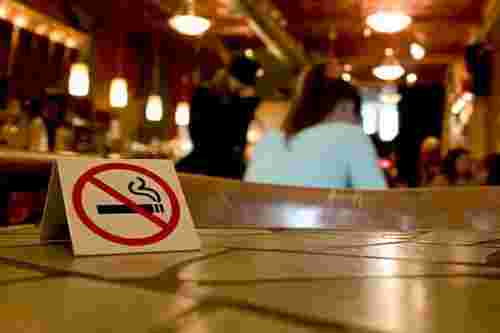 HAMMOND — The city became the first on the north shore and ninth in the state to ban smoking in bars and gaming places, following a split vote of the Hammond City Council on Tuesday night.
The law, which goes into effect in 90 days, adds those hospitality businesses previously excluded under state law to the list of employers that must provide smoke-free work environments.
Councilman Lemar Marshall, who sponsored the ordinance, said he sees it as a workforce initiative and public health issue.
"People have the right to work in an environment free of toxic air, regardless of their occupation," Marshall said.
Councilman Jason Hood, the lone no vote among the five-member council, said after the meeting that he doesn't believe it's the government's place to tell business owners how to run their business. Any bar owner concerned about providing a smoke-free environment for employees or patrons could have done so voluntarily, Hood said, echoing the sentiments of several business owners who spoke against the new law.
Existing city ordinances already prohibit smoking in public parks, including the city's skate park, as well as public buildings and vehicles. And the Louisiana Smoke-Free Air Act, which went into effect in 2007, bans smoking in most public places and workplaces, including restaurants.
The new ordinance, which was modeled on the New Orleans law that went into effect at midnight Wednesday, bans smoking and "vaping" — using electronic smoking devices like e-cigarettes which include nicotine — in bars, bingo halls and hotels as well.
Tyler Kinchen, a musician from Ponchatoula, urged the council to support the measure, saying his band plays smoke-free bars across the country but always has to deal with the smoke when they play for the home crowds.
"If you vote for this, I applaud you, but this isn't an exceptional or singular idea," Kinchen said.
Dan Lambert, owner of Cate Street Pub in downtown Hammond, said he would almost certainly lose business if the measure passed, but he supported it anyway.
"I'm going to lose money. Other people are going to lose money. But this is not about money," Lambert said. "This is about lives."
Ricky Brocato, owner of Crescent Bar downtown, said he will obey the new law, but he asked the council where his customers can go to smoke, considering the tight spaces around downtown buildings.
The ordinance's requirement that smokers stay 5 feet from any door, window or ventilation system of the bar would put people in a city planter at the street curb, Brocato said.
"I don't have any space for a patio," Brocato said. "In a perfect world, I'd buy 30 feet from the Post Office (behind the bar) and make one."
Trey Tantillo, speaking on behalf of the city's bingo halls, said the new law could be devastating to the 18 local charities that depend on bingo revenue.
"The gaming industry is looking at a 20 to 30 percent loss of revenue, and some industry leaders are warning it could be even higher," Tantillo said. "The results would be fatal for our local charities."
Economic impact concerns drove Harrah's Casino and dozens of French Quarter bars and restaurants to file suit Friday to strike down New Orleans' recent ban. Judge Nakisha Ervin-Knott, of Civil District Court, denied the businesses' request for a temporary restraining order, meaning the city can enforce the ban at least until a May 21 hearing on the merits of the case.
Alexandria became the first city to expand the scope of the state's smoke-free law in 2011, Cheryl Klein, regional manager for the Louisiana Campaign for Tobacco-Free Living, said Tuesday. Seven other cities across the state followed before Hammond.
Baton Rouge and Lafayette officials have discussed banning smoking in bars as well, although neither city has taken official action on the issue to-date.
Under Hammond's new law, business owners will bear much of the burden in enforcement, although the police will be empowered to issue citations and fines for violations, Mayor Pete Panepinto said.
Businesses must put up "No smoking or vaping" signs, and owners and managers face fines of $100 per violation per day, according to the ordinance. Individuals who smoke in prohibited areas could face a $50 fine per violation.
Follow Heidi R. Kinchen on Twitter, @HeidiRKinchen. Contact her by phone at (225) 336-6981.
Copyright © 2015, Capital City Press LLC
7290 Bluebonnet Blvd., Baton Rouge, LA 70817
(225) 383-1111
All Rights Reserved