Back
Baton Rouge smoking ban now in effect
Jun. 1, 2018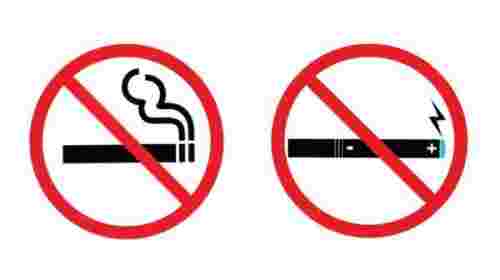 Nearly a year after the Metro Council passed a ban on smoking in most public places, the law is set to take effect on Friday.
The Metro Council approved the smoking ban in August but set it up so the law wouldn't take effect until June 1. That way, bars and casinos had a 10-month period to build outdoor areas where patrons could smoke.
Phil Brady's owner Joe Hall said he banned smoking inside the Government Street blues bar on May 1, a month in advance of the new law.
"It has not hurt us one bit," said Hall. "If anything, our Thursday night business has gone up a little bit. More people are coming through the door and saying to me they really appreciate that we've banned smoking."
For the past 10 years, smoking has been banned inside of Phil Brady's on the weekends, out of consideration for the musicians who were performing on stage. "Most bands kind of expect to perform in a no-smoking place," Hall said.
Because of this, Hall had pushed for a smoking ban for the past few years. "Baton Rouge has been behind the times with non-smoking," he said. "The restaurants got this done years ago, but the barrooms and the lounges got caught up with the casinos."
When the Metro Council was considering a smoking ban in bars and casinos in summer 2017, the casino industry lobbied against the measure. Wade Duty, executive director of the Louisiana Casino Association, warned that local gambling halls stood to lose 10 to 15 percent of their revenue and the job force that goes along with it if a smoking ban were instituted.
Harrah's New Orleans said in spring 2017 that revenue at its Canal Street casino went down $70 million in the two years since that city's smoking ban took effect. Anti-smoking advocates called that accusation baseless and noted New Orleans casino revenue had been trending downward for a decade from increased competition from other gambling venues. To keep people from leaving slot machines or table games to puff on a cigarette, Harrah's opened multiple smoking courtyards.
In Baton Rouge, Hollywood Casino opened a covered smoking area two weeks ahead of the ban. The area has 15 slot machines and is fully staffed by casino employees. L'Auberge Baton Rouge has opened an outdoor smoking terrace and is considering opening up a smoking area with gambling.
Officials with the Belle of Baton Rouge, which is considering moving its gambling operations onto land, declined to comment on how they will comply with the smoking ban.
Hall joked the dynamics of smoking in bars and casinos are different: "If the slot machine is hot, people are not going to go anywhere. If they're losing money, people are glad to go outside and smoke."
The smoking ban is effective in Baton Rouge and unincorporated parts of East Baton Rouge Parish. It does not apply to the municipalities of Baker, Central and Zachary. The law covers smoking and vaping. Under the law, any owner or manager of a bar or restaurant where the ban is violated could face a fine of up to $500 and anyone who lights up in an indoor public space could face a fine of up to $50. The law does create exemptions for established cigar bars, hookah lounges, private clubs, tobacco and vape shops.
Baton Rouge Deputy Police Chief Robert McGarner said officers have been briefed on the new ordinance and how to handle it.
"Our guys are ready," McGarner said. "They're going to have discretion, … (but) for the most part our officers will go out there and give warnings to begin with."
McGarner said he doesn't expect officers to be issuing summonses or making arrests unless violating the smoking ordinance becomes a reoccurring issue or is happening along with other illegal activity. He noted officers will not be seeking out violators but will respond as they would to any other calls for service during a typical patrol.
Raegan Carter, a spokeswoman for Smoke-Free East Baton Rouge, a broad coalition of organizations backing efforts to prevent service workers and musicians from being exposed to secondhand smoke, said she helped explain the law to the Baton Rouge police as well as to bar and casino owners and operators. The goal is improving public health, not making arrests.
"We don't expect there to be any issues," Carter said. "We're trying to protect the public health of individuals exposed to secondhand smoke."
Terry Sweatfield, who owns The Patio, a neighborhood bar on Jefferson Highway, said he's upset with the smoking ban.
"I'm a nonsmoker, but it really aggravates me that six people can sit around a table and tell me what I can and can't do at my own business," he said, referring to the Metro Council vote.
A good 50 percent of the customers at the Patio smoke, Sweatfield said. To accommodate them, he's built an outdoor smoking area with a misting system. That cost about $3,600, he said.
"I have to abide by the law," he said. Sweatfield said he isn't sure if the ban will lead to more customers at the Patio.
At Port Royal, a College Drive bar that caters to service industry workers, bartender Chelsea Kelley said she doesn't expect the ban will have much of an impact. "It's pretty much going to be the same over here," she said. "We have a lot of regulars who all come here when they get off. They'll still drop by." After all, Kelley said, there aren't any bars that allow smoking they can go to.
Port Royal has a patio in the back where customers can go for a quick cigarette. Plans are to make some adjustments, such as putting in an awning to make smokers comfortable in the brutal Louisiana summer heat.
"If New Orleans can have a smoking ban, then surely we can do it," Kelley said.
Advocate staff reporter Grace Toohey contributed to this report.