Back
Baton Rouge smoking ban advocates declare success in clearing the air
Nov. 28, 2018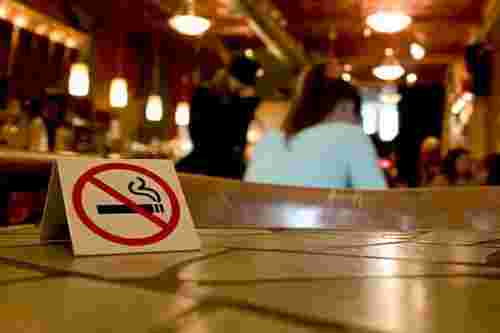 The coalition that urged East Baton Rouge Parish leaders to adopt a smoking ban last year are claiming indoor air pollution levels at most public places has dropped 98.8 percent since the smoke-free ordinance went into effect six months ago.
A study released Wednesday by leaders with Smoke-Free East Baton Rouge says the reduced levels of air pollution means employees and patrons in Baton Rouge's bars and casinos are no longer being exposed to the harmful effects of secondhand smoke, which had been a major argument in the push for the ban.
"We were not surprised by the results but were certainly excited to have confirmation that Baton Rouge area bars and casinos are no longer exposing workers or patrons to hazardous levels of air pollution resulting from indoor smoking," Raegan Carter, a spokesman for Smoke-Free East Baton Rouge, said in a news release Wednesday announcing the results of the study.
Smoke-Free East Baton Rouge is a coalition of organizations backing efforts to prevent service workers and musicians from being exposed to secondhand smoke.
"This decrease is even more substantial than what we found when New Orleans passed its Smoke-free Law (96% reduction) so we are very pleased that the law is working as intended," Carter said.
The results of the study, conducted by a New York-based cancer research center, were released by city-parish officials and the Smoke-Free EBR during a press conference Wednesday commemorating the six-month anniversary of the ordinance's implementation in June.
Mayor-President Sharon Weston Broome in a statement before the press conference said passing the smoking ban was a positive step toward making Baton Rouge a "modern and progressive" city.
Roswell Park Cancer Institute used state-of-the-art air pollution monitors at 11 area bars and three local casinos that allowed smoking in 2016 to test indoor air qualities. The average air quality in those businesses exceeded the EPA threshold for unhealthy air and two facilities exceeded hazardous levels, the study claims.
A little more than a month after the city-parish's ordinance went into effect, researchers re-visited the three casinos and three of the previously studied bars and found that air quality in all six venues fell within the "good" range of EPA's air quality index table.
According to the study, fine particle air pollution is defined as less than 2.5 microns in diameter. Particles of this size are released in significant amounts from burning cigarettes and are easily inhaled into the lungs, causing a variety of adverse health effects, including cardiovascular and respiratory disease and possible death.
The smoking ban is effective in Baton Rouge and unincorporated parts of East Baton Rouge Parish. It does not apply to the municipalities of Baker, Central and Zachary.
The law covers smoking and vaping. Under the law, any owner or manager of a bar or restaurant where the ban is violated could face a fine of up to $500 and anyone who lights up in an indoor public space could face a fine of up to $50. The law does create exemptions for established cigar bars, hookah lounges, private clubs, tobacco and vape shops.
The Metro Council received a lot of pushback from the casino industry when discussions swirled around adopting the ban in the summer of 2017. Casino officials argued they'd lose revenue and have to cut jobs if the ban was enacted.
Wade Duty, executive director of the Louisiana Casino Association, warned at the time that local gambling halls stood to lose 10 to 15 percent of their revenue and the job force that goes along with it if a smoking ban were instituted.
Revenues at Baton Rouge's three riverboat casinos had been steadily dropping since before the smoking ban took effect. The local riverboats haven't seen a year-to-year gain in winnings since August 2017.
But the ordinance also garnered support from local businesses that already had smoking bans in place.
Happy's Irish Pub in downtown Baton Rouge was one of those businesses that initially upset a lot of their regular customers when it enacted a smoke-free policy ahead of the city-parish one.
"But with our patio and cocktail service, we were able to adjust," C.C. Henson, the downtown bar's general manager, said in the new release Wednesday.
"I have a couple of girls who have severe allergies, so as far as the staff is concerned, they love it," he added. "Being a smoke-free bar has not only pleased our staff, but our non-smoking patrons enjoy our experience even more."