Back
Alexandria celebrates five years tobacco free
Jan. 30, 2017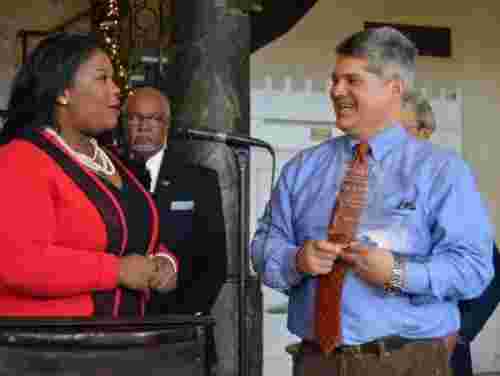 The city of Alexandria earned recognition this month for pledging to be a "tobacco-free city" five years ago.
Officials gathered at the Bentley Hotel last week to celebrate the success of the enforcement of a Smoke-Free Ordinance, which prohibits smoking in "all enclosed public places of employment, including bars and gaming facilities." Alexandria was the first city in Louisiana to become smoke-free in 2012.
At the event, Mayor Jacques Roy said the city took a "strong stand" to pass the ordinance, despite it being "unpopular" with business owners.
"In a lot of cases it wasn't even the health aspect that was argued," Roy said. "I think it's understood that smoking is dangerous to everyone who is around it. But we felt that we needed to stay strong and pass this ordinance. We owe it to the people of this great city to show them that we care, and this is only one way that we have done that."
However, the American Lung Association's latest State of Tobacco Control reportfound Louisiana's efforts as a whole unsatisfactory. The report documents the progress and failures of each state and assigns grades based on whether its laws protect citizens from the health toll tobacco use takes on lives and the economy.
Here's how Louisiana fared in the 2016 State of Tobacco Control report:
Funding for state tobacco prevention programs – Grade F
Strength of smoke-free workplace laws – Grade B
Level of state tobacco taxes – Grade F
Coverage and access to services to quit tobacco – Grade F
Minimum age of sale for tobacco products to 21 – Grade F
"We understand that secondhand smoke and tobacco use is a dangerous issue in our state, so our efforts to make Louisiana a smoke-free state are still going strong," said Tonia Moore, director for the Louisiana Campaign for Tobacco-Free Living. "We applaud Alexandria for being the first city to become smoke-free five years ago. Since then, many more cities — including New Orleans — have become smoke-free in our state. This is only the beginning."
Cheryl VanHoof, director of the cardiac rehab program at Rapides Regional Medical Center, watches each day as residents deal with the impact of smoking.
"It is still an issue in this community, I believe. A lot of people have quit smoking over the years, and that's great, but we're seeing patients that only decide they're ready to quit and overcome their addictions after they've had a heart attack or cancer, or have undergone some type of surgery as a result of their smoking addiction," VanHoof said.
On average, VanHoof sees about 130 patients each day in the cardiac rehab facility. She recommends her patients find an alternative to help them stop smoking.
"I'm not talking about other forms of tobacco," she said." I'm talking about something that occupies the mind and body. We've seen great success with our exercise program. Many people who take up exercising have succeeded and really turned their lives around to become healthier and happier."
The State of Tobacco Control reports that in 2016 about 21 percent of Louisiana residents were smokers. Moore said those numbers are down in comparison to recent years.
"The state's policy prohibits smoking in public places, but it's not a comprehensive ordinance," Moore said. "The state as a whole still has a lot of work to do to protect people from the inherent dangers of smoking and second hand smoke, but as we continue to work with the state and local officials, we expect that our numbers will continue to decrease in the coming years. The city of Alexandria set a benchmark for this initiative five years ago, and we're thankful for the community support to make our state healthier in the long run."