Back
Alexandria Celebrates 10 Years Smoke-Free
Jan. 28, 2022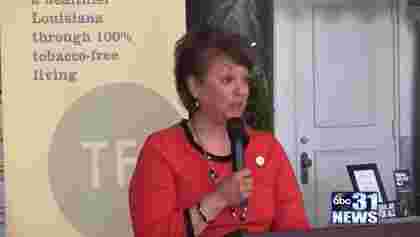 Organizations across Louisiana celebrate the 10 year anniversary of the smoke free ordinance. It made all workplaces are smoke free, including bars and gaming facilities. ABC 31 News, Keisha Swafford has the story on how the smoke free ordinance has impacted the community. Alexandria was the first city to strengthen the Louisiana smoke-free air act. Former council President Roosevelt Johnson was honored as the first champion of the smoke-free ordinance. He hopes that more cities in Louisiana will pass the law. Roosevelt Johnson, former council president- it was something as former president at the time, i was really proud of. something that we wanted to see done. something that we wanted to see accomplished because when you look at healthy cities and healthy communities for all, it means a lot. Deputy Secretary Mark Thomas feels it is important for the public to breathe clean air because for him, it hits close to home. Mark Thomas, Deputy Secretary, "I lost both my parents to lung cancer and so this is worthwhile to make sure that families get to participate in a healthy."
Jennifer Gilchrist organized the conference to honor those who are fighting for a smoke-free Louisiana. She believes that it will improve the lives of smokers and non- smokers. Jennifer Gilchrist, Regional Manager of Tobacco-Free Living, "It is good for everybody because people can just step outside if they choose to smoke, and the environment indoors stays clean and free of toxins."
People from all over the city of Alexandria gathered together to support a cause they were all passionate about. it is their hope smoke-free environments become integrated in every part of the state. Keisha Sawford ABC 31 News that works for you. The conference had a great turnout and they hope to celebrate another 10 years of the smoke free ordinance.